DEAN'S MESSAGE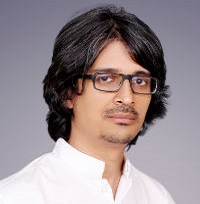 Prof. Atrey Chhaya
I/C Dean at Balwant Sheth School of Architecture,
Programme Chair B.Arch., M.Arch.
Assistant Professor
B.Arch , M.Arch (Architecture& Urbanism).
Dean's Message
Balwant Sheth School of Architecture (BSSA) offers a Full time Five Year B.Arch Degree. Since it's inception in 2007, students and faculty are engrossed in a journey to explore the "Process of Design". Our syllabus imbibes Contemporary Design and Advanced Technology Studio Models. We are preparing our students to understand the changing ethos of architectural design and practice.
In formulating this agenda one of the key processes was a review of the conventionally existing modes of Architectural Education, Research and Practice. BSSA would learn from the past, envision the future, redefine, enhance and integrate the present and constantly evolve. "Holistic perception and its translation in three dimensions…" was the virtue of the Classical Architect. The Architect perceived, analyzed and synthesized the third dimension. The Architect was sensitive to People, Culture and streams of Art, aware of Technology and well versed with the skills of Design. Future Architects would need to re-learn from the Classical Architect who practiced "Holistic Design". Contemporary Practice is a Team Based effort.
Understanding different layers of the Team, translating and communicating abstract design concepts would need a special learning process. BSSA offers Design as the Core Studio. Pure and applied Technology, Structure, History, Humanities and Graphics skills are offered as extensions to the Design Studio. Design Studios are a Process driven endeavor. Advanced Technology Studios are introduced to understand intuitive and applied structure and the nature of materials. A Foundation Workshop is introduced at the commencement of the First Year.
Awareness of Climate, Culture and Socio Economic patterns are analyzed through a series of structured Study Trips. Artists, Professionals, Industry experts, Scientists and various Social Studies Organizations are invited to lecture and conduct workshops. I believe that a Professional School offering Architecture Studies should be organic and constantly evolve with the changing Design scenario. Envisaged National and International Student and Faculty Exchange and Joint Research programs would commence from this year. I am quite aware of the step ladder we need to climb to reach and maintain the momentum of the ascents. The enthusiasm of the faculty and the students' desire to learn would certainly fuel this drive. For the last twelve years we have retained, modified and fine tuned this process that changes with time.
On behalf of BSSA, I invite prospective students to join us and embark on this journey called Architecture.